from https://honenu.org/exposing-the-duma-blood-libel-part-1/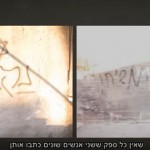 Thursday, April 16, 2020, 16:05 In July 2015, the Dawabsheh family's house in Kfar Duma was set on fire in an arson attack. The first video in the series "Exposing the Duma Blood Libel" presents the discrepancies between the central eyewitness testimony in the Kfar Duma case and the confession extracted under extreme duress from Amiram Ben Uliel. The video also censures the request by the Attorney General's office to expunge the testimony. See here for a report from Honenu on the many irregularities in the case.
In the video, Ori Kirshenbaum explains that according to the central eyewitness, a neighbor of the Dawabsheh family, there were at least two people who set the blaze. The eyewitness repeated his testimony several times on the day of the incident and on subsequent days. He was quoted in news reports and on news websites. Also, see here for an expert opinion that the graffiti found at the scene of the arson does not match Ben Uliel's handwriting, and was written by two different people.
This testimony contradicts the confession extracted under duress from Ben Uliel, in which he explained that he carried out the arson by himself. The indictment served to Ben Uliel is based on this confession, which constitutes the only evidence against him.
The video explains that even though Ben Uliel had already confessed, his interrogators attempted to extract "a better confession" from him, but did not succeed. In light of this, the Attorney General's office was forced to serve Ben Uliel with an indictment based on his confession, despite the discrepancy between it and the testimony of the central witness. After the indictment was served, sources in the GSS were quoted as saying that the Duma murder had not been completely solved and during an interview on the Israeli Uvda investigative and current affairs program, Chief Superintendent Erez Amouyal, who led the Israeli Police investigation team in the Kfar Duma case, stated that he believed the central eye witness.
Currently the Attorney General's office is requesting to resolve the discrepancy by expunging the testimony of the central witness, who stated that two people set the blaze. As Kirshenbaum says in the video, "Facts, as you have already understood, do not really interest the Attorney General's office."
Ori Kirshenbaum, Honenu: "The Attorney General's office has been working furiously to obtain a conviction in the Duma Blood Libel case. We hope that the court will demonstrate courage and judicial freedom and not cave in to pressure from the Attorney General's office. Sending an innocent man to three life sentences is a moral blemish of which the State of Israel will not be able to rid itself."
"Exposing the Duma Blood Libel" – Part 2
"Exposing the Duma Blood Libel" – Part 3
"Exposing the Duma Blood Libel" – Part 4
See also the post: written 2 years ago Father of tortured Israeli youth speaks out
See also the post Violating Shabbat to Prepare A Jew to Withstand Possible Shabak Torture?
Rabbi Dov Lior says, Yes! Rabbi Yaakov Ariel says, No!
That post is accompanied by an audio lecture. To hear or download the audio of this lecture, press on the link 60ribo.org.il/storage/audio/duma.mp3